MICCAI Student Board 2022 - Call for New Members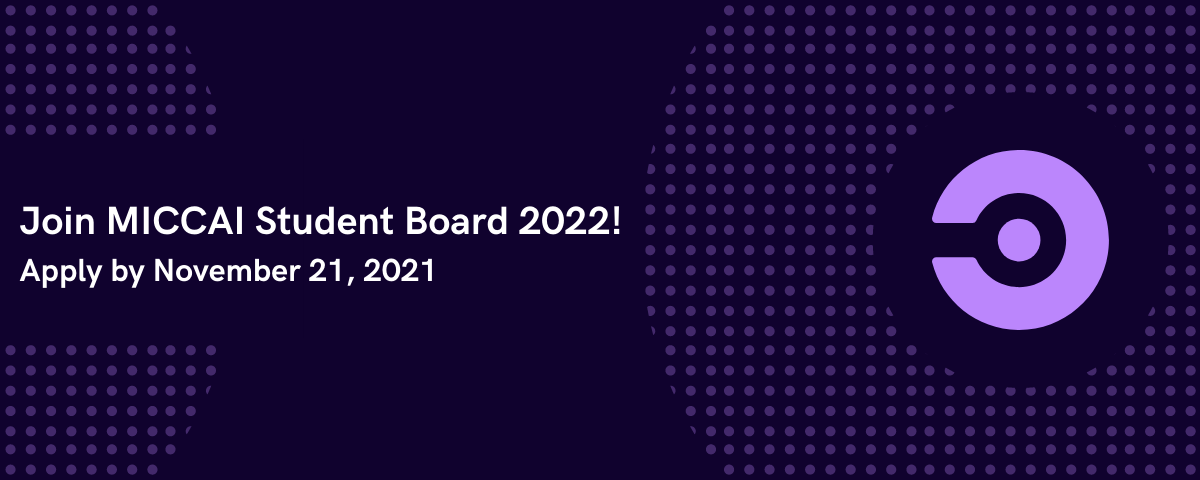 Dear colleagues,

We are recruiting new members for the MICCAI Student Board (MSB). Please reach out to us if you are interested in joining. We would also appreciate you forwarding this call to interested students. Applications close on Sunday, November 21th, at 23:55 UTC.
About MICCAI Student Board
The MSB is a student-organised body that for over a decade has represented student interests within the MICCAI community, increased the involvement of students and enhanced student networking. We organise social and professional events during the MICCAI conference and maintain the MICCAI Educational Initiative, where we collect educational materials for early-career researchers. Recently, we have also started holding virtual webinars throughout the year. Being a part of the board is a great opportunity to become involved in the MICCAI Society in a team of like-minded graduate students from around the world.
Open Positions for MSB 2022
For the year 2022, we are recruiting members for the following positions:
Sports Officer - Sports officers are responsible for overseeing the organisation of sports-related events at MICCAI (soccer, morning runs, yoga) in collaboration with the local organizers, this year in Singapore.
Education Officer - Education officers oversee the MICCAI Educational Initiative, including most importantly the Educational Challenge where MICCAI attendees can vote for their preferred materials during the conference.
Webinar Officer- In 2020, we started an online webinar series to engage with students year-round. The Webinar Officer is responsible for collecting webinar topic ideas (which range from mental health in academia to publishing advice), contacting potential speakers, and helping to coordinate 3-4 webinars during the year.
Executive Officer- This role is an opportunity for a student who has not yet, or just recently, started their PhD to join the student board. The Executive Officer role provides an overview of all the activities of the board, and often leads to assuming an event officership in the following year.
How to Apply?
To apply, please send an email to miccai.sb@gmail.com with a copy of your CV (in pdf format) and the following information:
Full name and current institution
Desired role(s)
PhD/Masters year
Country of origin, and current primary location (with time zone)
In addition, please provide short (max 200 words) answers to the following questions:
Why do you want to join the MSB?
What experience qualifies you for your desired position?
Have you attended MSB events in the past? What did you like and what would you change?
If you apply, please add our address, miccai.sb@gmail.com, to your safe sender list to ensure that our emails properly reach you. We look forward to your application!